A welcoming membership community for women to connect through monthly meetups, support one another, and build a network of resources.
Being a woman is hard. On any given day, we're the meal planner, taxi driver, on-call therapist, lint trap cleaner, date maker, and form filler outer; the list goes on…we do all the things for all the people.
We can't make those things go away. But what can offer, in addition to our award-winning storytelling, is a community of women who GET IT. They're right there with you to make sure you're less alone. To give you top-notch recommendations, make connections, or simply offer a listening ear so you can worry about one less thing.
Want in?
An *exclusive* monthly member email with special offers, additional content, and more beyond what's in the weekly newsletter.

Direct access to connect with other badass women in our members-only Facebook and LinkedIn groups so you can stay in touch with other Mavens 24/7.

FREE tickets to our monthly meetups (and bring a non-member friend for $10) while non-members pay $20 (a $240 value!).
20% off any membership level with The Riveter, a digital network built to amplify and advance women's work.
Discounts on all other Indy Maven event tickets and merchandise (our sweatpants are freaking AMAZING).

Perks to save you money with local businesses valued at thousands of dollars.
Discounted Office Hours with Indy Maven + Maven Space CEO, Forbes Next 1000 lister, one of Indiana's 250 Most Influential Leaders, and really friendly person, Leslie Bailey.
Discounts on memberships to our sister company, Maven Space—a coworking space, event venue, and social club in downtown Indianapolis. 
JOIN OUR GROWING COMMUNITY
Get immediate access to 400+ like-minded women in our community of Mavens!
WE MAKE IT EASY TO "BE IN-THE-KNOW"
Do you want to be surrounded by a community of women that fits your values and lifestyle?
Do you feel like you're constantly finding out about amazing new businesses after everyone else or events after it's too late?
Do you wish you could be as active, engaged, and knowledgeable about what's happening around you as you were before things got busy with your career, kids, family, and everything in between?
Yes? You're in the right place.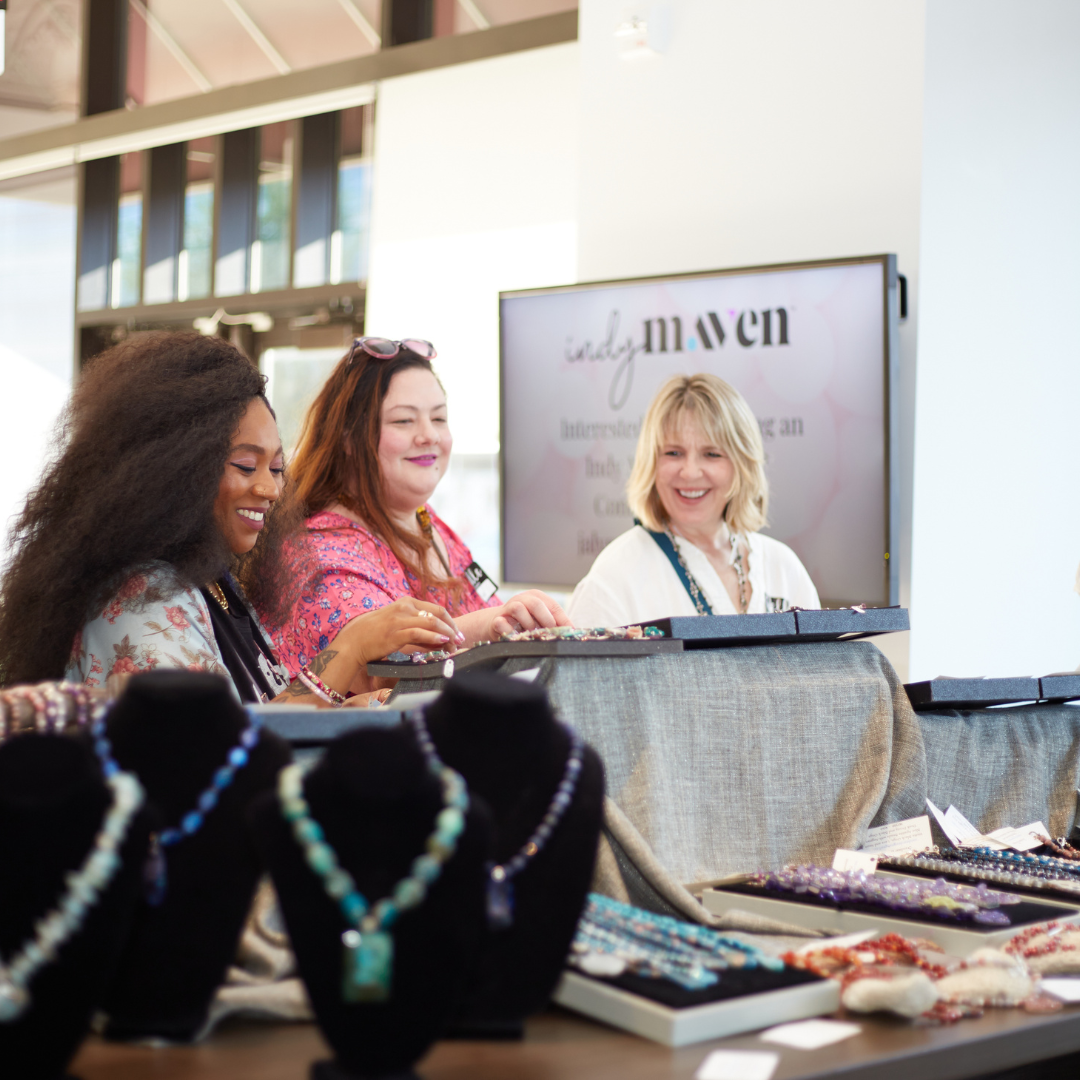 Support the Voices of Indy Women
Our membership is for women in the Indianapolis area who…
Want to uplift the voices of ALL women in a genuine and effective way.
Are committed to improving their community where it counts the most.
Believe in the power of women.
Support the voices you want to keep hearing from and help us make a difference. 
Michelle B.
"I am enjoying the membership. I really enjoy the writing and learning more about women I would like to know better.  Keep up the great work!" 

Sheila R.
"Indy Maven is a way to connect outside my natural circles, become more informed, re: all things Indy and its most interesting, amazing, giving, kick-ass women." 

Taylor C.
"Indy Maven is absolutely amazing! From the Facebook Group to the newsletters, everything is just what I was looking for. I joined Indy Maven to connect with a group of like-minded, kick ass women and so far it's been just that!"

Angela J.
"I feel honored to be a member. It's a great reflection of the strong, capable women in the city. Indy Maven is the shot in the arm I needed!"

KJ M.
"I joined Indy Maven early on because it meets a need in the Indianapolis community for women in business to be seen, heard, and supported."

KJ M.
"I joined Indy Maven early on as I saw them meeting a need in the Indianapolis community for women in business to be seen, heard, and supported."
