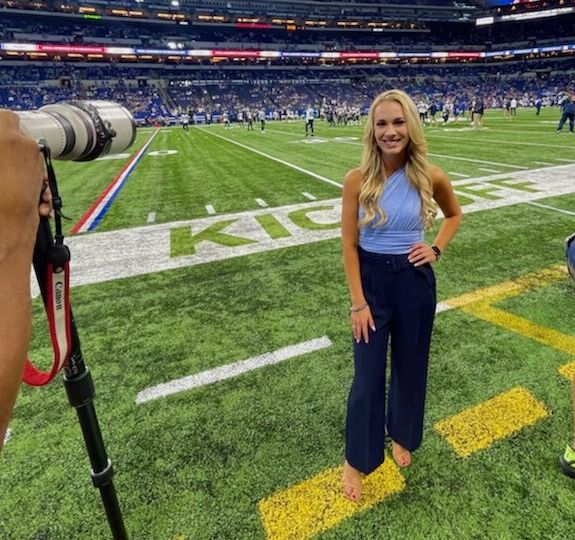 Hoosier by birth and now Hoosier by choice, WISH-TV sportscaster Olivia Ray has already made a name for herself in the world of sports journalism after graduating from Indiana University in 2017. Ray began her professional career covering notable teams from Notre Dame's athletic department, then she quickly transitioned to working with the big dogs up in Indy — the Pacers and Colts.
Being a sportscaster in the public eye, especially as a young female, can be rewarding, yet very demanding. We spoke with Olivia Ray to find out more about the challenges she's had to overcome as a woman in the industry since her departure from Bloomington.
Where did your passion for sport stem from?
I grew up in a family that was very talented in sport, and that's excluding me. Everyone else in my family seemed to play college ball of some sort, whether it be softball, basketball, or soccer. I tried my hand at everything. I was usually average or a little below average at every sport I tried to play, but I gave it my all and I really loved it. I only have one brother, but I have a really large extended family, and everyone played sports. So, to really have a good time with my family I had to love sports. They're the ones that helped me fall in love with it.
I knew I wanted to write after spending some time in high school journalism programs. I also had tried a little bit of news and feature-y things, and it just wasn't doing it for me. Then I was like, "Why am I not doing sports, when clearly, that's what I love to talk about, it makes no sense." So, it all quickly came together.
There was never any doubt that my career was not going to include sports — it had to — because that's what drives me, it's what makes me happy. If I ever get out of the television industry, it's still going to include sport.
You graduated college and quickly transitioned into covering Notre Dame athletics. What were your initial fears when entering a largely "male-dominated" industry as a young woman?
In my first station, there hadn't been a female in the sports reporting role in some time. I knew that it was going to be a challenge since I was just finding my footing in the industry. As a lot of people will tell you, you have to have constant reps to really get comfortable on-air, and I didn't have those yet, so, I knew I was going to have to take my lumps in my first job.
Unfortunately for that community, they had to kind of grow with me. Those were some of my biggest fears going in — knowing that I wasn't going to be super polished heading into my first job and that I was going to likely be one of the only females in the market, so that was probably going to add to some of the criticism.
I did take my lumps and I did figure it out along the way, but I had some people that were really supportive. They made sure that I always knew to be the most studied in every room. I needed to have the most facts because I was likely, a lot of times when covering Notre Dame football — my first job — one of the only people on the beat that hadn't played the game of football. So, I needed to know it better than the guys. I needed the stats right on hand; I couldn't be asking general questions, I needed to be informed and I learned that quickly.
How did you build back self-confidence in moments where you asked yourself, "Do I even belong in this industry?"
I had some really awesome mentors along the way in this business. I've never really encountered a female that wouldn't help if I needed help looking over a reel, or job searching, or helping set up an interview, or conducting an interview … every single woman that I've encountered treated me like we were family. They're your sister, whether you've met them before or not.
Obviously, there's not a lot of us in every room, but when there's one or two, you stick together. There was a classmate of mine who was in the industry, her name is Allie Hausfeld — she would call me pretty regularly. Tricia Whitaker has always been helpful. Anytime I've run into Lara Overton, she's been so helpful. Those are former IU grads that have had successful careers early on and they were sure to always lend a hand whenever I needed it.
Being a female in the public eye, how do you handle hate on social media?
The industry has evolved so much. Posting on social media was not the norm 15 years ago. Now, it's such a large part of our job each and every day. Twitter is Twitter. You're going to get people that argue with you on Twitter about your opinion, whatever it may be, so I don't really feel like I get too many comments on there that make me think, "You don't know what you're talking about," or "Why are you coming at me?'
Recently, it's been Instagram that we've kind of worked into our repertoire for the TV industry. It's hard to figure out how to balance that. I think for so many people in their twenties, I wanted to give a little bit of a glimpse of my personal life on Instagram and I thought that was a nice way to share it with viewers and have them get to know me better. But, I've had to adjust that as I got along because so many people are on Instagram now that you do get those inappropriate comments and people that are following you for the wrong reasons.
However, I've realized that my loyal followers come there to see my stories, so that's where I've been posting a lot of my stories, along with a couple photos here and there of my personal life.
If I'm at a friend's wedding or visiting a friend that had a baby, I tend to share those moments. But, it is a difficult balance of what you want to share with viewers and what you don't want to share.
Sports reporting is demanding as hell, how do you not resent your job for the sacrifices you've had to make?
That's kind of a daily struggle in this industry … I still miss a lot of things. I'm going to miss my brother's fiancé's bachelorette party because it's during the month of May. The month of May is kind of off-limits in this town for taking time off. There are always things that you're going to miss.
Luckily, when you have a good support system and really good friends, they tend to understand why you're missing something of theirs. I definitely go through highs and lows with that. I could be at my best friend's baby shower or I could be here or there, instead, I'm covering a game. But then when I put it into perspective I'm like, "If I had this day off, if I wasn't doing this job, I'd probably be paying to go to this game, not getting paid to cover the game and talk about something that I love."
It is frustrating a lot in those moments, and almost heartbreaking at times when you look back and realize you weren't there. I've found ways to find balance in that, though. I give my friends and family my schedule so far ahead of time so they know when they can try and work around scheduling. You get used to people passing the phone around. But, staying connected in other ways is how I've tried to cope with it.
When you first start, it's a strange transition — you're missing out and you have a lot of FOMO. But, as you grow in the industry, you realize that this is something special; it's a unique opportunity and there are not many people that get to do it.
Have you ever had any teachable moments—for example, if someone said something ignorant and misogynistic—and you had to be the bigger person? Is it hard to stand up for yourself the way you want to online?
A lot of those comments on social media take conditioning. You can be warned of it when you're in school — people are going to make nasty comments to you, people are going to say things that aren't true, don't let it get to you — well, the first few times, and honestly even now, it does still cut deep. You have to remember that they're not doing this every day. They're not covering nine sports at a time, to where sometimes you are going to make a small mistake and you have to give yourself grace in those moments.
It is hard to hold back. You do want to stand up for yourself or you do want to make a sassy remark back like they made to you, but you have to set boundaries for yourself and know when someone has crossed a line to where you feel you do need to say something back, or if you just need to let it go.
Everyone has bad days and sometimes, people like to take that out on you through social media. If people take shots at my appearance, I just need to let it go on social media. The only times things have really ever gotten to me that I have felt the need to respond to are when people are trying to correct me in a way that I know that what they're saying is not factual, and that it could be harming my product or my brand because they're kind of spewing, "Oh this isn't right," when really their facts are actually incorrect.
The good thing about sports, if you're not putting an opinion out, if you're only using stats and facts, it's kind of hard to argue those — it's hard to argue numbers.
Why do you think it's taken so long for this "male-only" barrier to be broken down in sport?
I think a lot of it has to do with, honestly, social media. Women have been able to get their opinions out there and give good sports takes on social media. I know that's a double-edged sword because that's a really easy way to be targeted on social media.
I think through social media and giving women platforms that they didn't have before, they've been able to show how informed they are, that they have great sports opinions, and that they should be able to talk about this on television with the men next to them.
I've seen so many women get big breaks because of things they've done on social media — products that they've put out, engaging with followers — they've been able to earn a spot at the table. Especially as of late, you've seen so many women having different roles in sports coverage and I truly think it's because they've proven themselves on social media.
What's the best piece of advice you've received from a woman in the industry?
The one I tend to lean into is, and I don't know if this was a sportscaster or a mentor in general in the industry, but "It doesn't cost anything to be kind."
I believe that's what I use a lot when you ask if it's frustrating to use restraint when someone's saying something nasty. I always look back at that comment and use it as a guideline because I'm like, "It doesn't cost anything to be kind to this person."
I know they weren't kind to me, but they're taking it out on a stranger because they had a bad day. I'm not going to make their day worse by responding and correcting them or making them feel worse. I get that they tried to make me feel bad, but I have a great support system right now and I'm not going to let that get to me.
I've used that when viewers come up to me out in public, or when an interview subject kind of pushes back and doesn't want to continue with an interview, because everyone's going through something. I feel like we need to remember that; that's kind of my life headline.
How does the pressure of having to know everything about sports affect you?
Sometimes, it affects me too much. I do a lot of studying outside of work, a lot of prep for games, things like that where I think it's almost too much. I've had a really great boss here at WISH-TV. I think when he notices that I'm doing that to myself he'll remind me, "Spend your off day as your off day, we don't want you to get burnt out." That's been helpful here.
He picked up early that I do like to put in a lot of work on my off days because I always want to be the most studied, I want to have the most information on everything, I want to know the information that nobody else knows. It's been really nice to have someone that picks up on that. He encourages me to take time away from sports.
Unfortunately, for most of us that cover sports, it's almost like an illness. We have to be at games on our off days because that's what we like to do. Sometimes it's hard to unplug on days, but having someone that encourages you to do so has been helpful.
How does Olivia Ray do self-care on her days off?
I actually volunteer in a completely different capacity. I work a lot with my church, The Church of Haiti ministry program. I've been going since I've been in high school and now, I handle a lot of the media relations. That kind of helps me step a little bit outside of the sports realm.
I have been teaching this year at IU, a sportscasting class, on my days off, which has honestly been super rewarding. I love interacting with students and trying to help people the way that people did for me when I was there. It's been really nice to try and give back to a university that did so much for me and one I'm so grateful for. So, there's still sports involved with that, but luckily, it's in a little bit of a different capacity.
This industry can be extremely competitive. Why is it crucial for women in sport to build each other up?
Women having a platform and being able to use it correctly on social media has helped. But also, sometimes when people are too competitive, you can tear each other down, you can shed light on if someone has made a mistake and things like that, and that's just not necessary.
I don't see the men doing that next to me. My first couple weeks on-air at WISH-TV, the competitor down the street was tuning in to our post-game points show and she knew that it was one of my first times doing it. She said, "Text me in a commercial break," and said, "Your mic strap is showing, adjust your skirt, you're killing it, keep it up." I thought that was such a good example. She wanted me to look good because having a great cast of female sportscasters in our market just makes us all look better.
Mina Denny is Indy Maven's editorial intern who studies journalism and sports journalism at Indiana University's Media School.
All of our content—including this article—is completely free. However, we'd love it if you would please consider supporting our journalism with an Indy Maven membership.