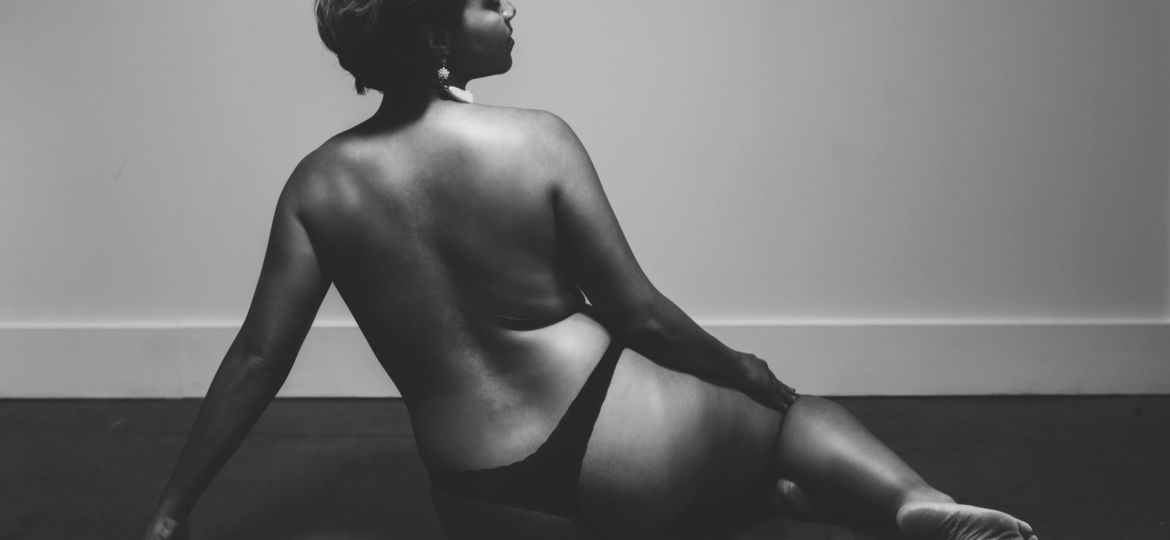 Looking to spice up your photo game? We asked Indiana boudoir photographer Bethany Quinn, owner of Bethany Quinn Studios, for her tips—and wow, she did not disappoint. Whether you want to show off your booty for your boyfriend or just take a pic to keep and remind yourself just how sexy you truly are, here are Bethany's suggestions for adding extra sex appeal to your photographs.
"I want to preface these tips by saying that all bodies are beautiful. I'm ready to see more women that are proud of what their mama gave them! Our bodies are a personal history book, a home for new life, and a temple for the soul. Let's treat them as such," Bethany says.
TIP #1: GET OUT THE FAN!
Show off those locks! Beyoncé has her own fan during performances, so why shouldn't you? It creates interest and movement throughout the image, and highlights your features from your moneymaker down to the breast line.
TRY THIS POSE (with a fan blowing, of course):
1. Put one foot on a chair.
2. Cross your arms and press the girls up. (But not too far.)
3. Arch your back and look to the angle where the fan is blowing.
TIP #2: BE YOUR FABULOUS SELF, AND LAUGH. IT. UP.
As someone that practices with taking selfies to help with the progression of my craft, I can tell you, you are going to laugh while you take these photos…A LOT! Get a couple of those laughing shots; you never know, you may really love them. Seeing yourself laughing in a shot will help trigger how you felt when you took those photos. If you're having fun while you're shooting your photos, hopefully that emotion will carry over every time you look back at them.
TRY THIS POSE:
1. Lie on your stomach.
2. Bend your knee closest to the camera, propping your booty up.
3. Bring your elbow in close to your hip.
4. Gaze over the shoulder that's closest to the camera.
5. Do the loudest, goofiest laugh that you can ever imagine as you take the picture.

TIP #3: WRAP YOURSELF IN A PLAIN WHITE SHEET
Behold: the most underestimated piece of wardrobe you could have for a photoshoot! I LOVE a white sheet. It's perfect for everybody. You can wear a bra and panties underneath, and use the bra to tuck in the sheet, creating a gorgeous sweetheart neckline. You can also kick it up a notch by adding some jewelry.
TRY THIS POSE:
1. Sit on the floor with your legs to one side of your body.
2. Straighten your bottom leg.
3. Bend the top knee to where it touches the floor in front of the bottom leg. From this position you can also choose to show some skin by hiking the sheet up over that top leg.
4. Be sure to push your chin forward and take a deep breath in and out as the shutter is clicking.
TIP #4: NEVER UNDERESTIMATE THE POWER OF ANGLES
Enough said.
TRY THIS POSE:
1. Lay down over a pillow or the arm of a couch.
2. Arch your back.
3. Chin up.
4. Put your right hand in your hair.
5. Eyes down.
6. Straighten your right leg and bend the left.
7. Place your left hand on your left thigh.
8. Take a breath, and take the shot
TIP #5: SHOW OFF YOUR BOOTY
Shake what your mama gave you! This can be done topless, with a cheeky bodysuit, or with boy shorts for the ultimate pop. Bonus points if you add baby oil to your skin.
TRY THIS POSE:
1. Stand with your back to the camera.
2. Bend your left knee over the right.
2. Rest your arms over your head.
3. Relax your fingers.
4. Arch your back.
FINAL THOUGHTS FROM BETHANY:
When you try these poses out yourself, remember to breathe and blink the entire time. If you don't, it shows. Try working poses from different angles: #4 looks great when the camera is side-on in that same pose. For those brave souls out there who are willing to post their photos on Instagram, I would love to see how yours work out for you. Please tag me!
All photos courtesy of Bethany Quinn Photography.
 Bethany Quinn has been helping women feel more confident in their own skin through black-and-white boudoir photography since 2019. The Indy-based photographer also helps other photographers feel more confident through her virtual education program, where she shares the boudoir business knowledge that has led to her own success.
When she's not behind the camera, Bethany is likely hiking with her husband (Andrew) and dog children (Koda and Pippa), unwinding through drawing or watercolor painting, jumping at last-minute travel opportunities, or riding her motorcycle.
All of our content—including this article—is completely free. However, we'd love if you would please consider supporting our journalism with an Indy Maven membership.